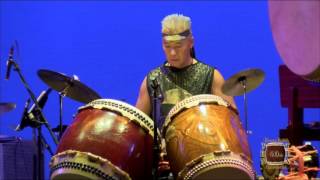 Hiromitsu Agatsuma
(Tsugaru-shamisen)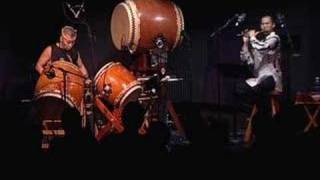 Kaoru Watanabe
(Bamboo flute, Taiko)
Abe Lagrimas Jr
(Drumset, vibraphone, ukulele)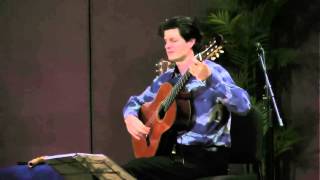 Island Breeze
(with Jeff Peterson & Riley Lee)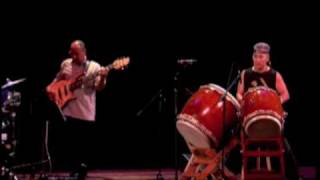 Rhythm Summit: Jazz Trio
(With Noel Okimoto & Dean Taba)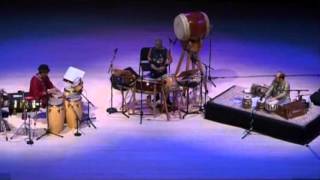 Uncommon Time
(With Abhijit Banerjee & John Santos)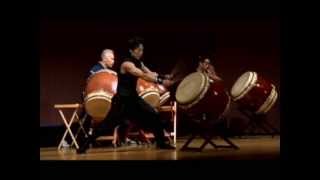 Yuu Ishizuka
(Professional Taiko Solo Artist)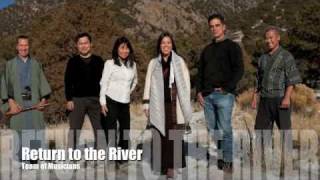 Madi Sato (Vocals)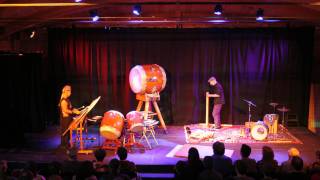 Keith Terry (Body Music)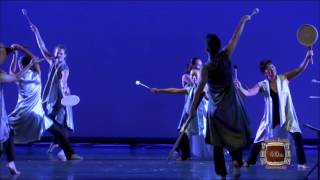 Peggy Gaither Adams
(Choreographer) Çudamani
(Balinese Gamelan Orchestra) Parijat Desai
(Dancer/Choreographer)
Hiromitsu Agatsuma
(Tsugaru-shamisen)

Hiromitsu Agatsuma specializes in the Tsugaru-jamisen, a larger Japanese lute with thicker strings than those used in other styles. Beginning at the age of six, Agatsuma quickly gained fame after earning top prizes and honors in prestigious national Tsugaru-jamisen competitions during adolescence and his early career. An accomplished artist in the hogaku, or traditional Japanese music world, Agatsuma avidly experimented in fusing its genuinely Japanese sounds with diverse musical genres. He made his major label debut on Toshiba EMI with the album Agatsuma, named Traditional Japanese Music Album of the Year at the 16th Japan Gold Disc Awards. With over 100 annual concerts, sessions and media appearances, Agatsuma continues to pursue the traditions of and innovations in the Tsugaru-jamisen.

Kaoru Watanabe
(Bamboo flute, Taiko)

Kaoru Watanabe is a Brooklyn based composer and musician, specializing on the Japanese taiko drum and shinobue flutes. He has spent decades artfully blending the sounds of Japanese instruments with those from around the world, collaborating with such artists as National Living Treasure Bando Tamasaburo, Jason Moran, So Percussion, Adam Rudolph, Kenny Endo, Stefon Harris, Kiyohiko Semba, Alicia Hall Moran, Tatsuya Nakatani, TaikOz, Yo Yo Ma's Silk Road Ensemble, Imani Uzuri, calligrapher Kakinuma Koji, visual artist Simone Leigh and has performed his compositions at such prestigious venues as Carnegie Hall, Lincoln Center, The Kennedy Center, The Metropolitan Museum of Art, Whitney Museum, Kabukiza, Minamiza, Blue Note NYC and has performed in all 47 prefectures in Japan.

Abe Lagrimas Jr
(Drumset, vibraphone, ukulele)

[Video features a collaboration with Kenny Endo and Kaoru Watanabe (drumset, taiko)] Abe Lagrimas, Jr. is a versatile multi-instrumentalist who begun his musical journey when he first sat behind the drums at the age of four. As he learned more about drums and music, Abe gained an interest in other instruments as his career progressed. Predominantly known as a drummer, Abe is highly proficient on the vibraphone and the `ukulele and continues to perform throughout the world on all three instruments and in many different musical situations.

Island Breeze
(with Jeff Peterson & Riley Lee)

Taiko, Slack Key Guitar, and Shakuhachi "Island Breeze" is a trio of world class musicians, each masters of their own instruments, who have come together to create some new and inspiring music. Jeff Peterson (Hawaiian Slack Key Guitar) Recognized as one of Hawaii's most versatile musicians, Jeff Peterson is at the heart of the Hawaiian music scene today. His passion for the guitar has allowed him to shine as a solo artist and has given him the opportunity to collaborate with a wide variety of artists from Hawaii, across the US, and abroad. His focus on Slack Key guitar, classical, and jazz music has allowed him to develop a unique and transcendent voice on the guitar while being deeply rooted in the traditions of his Hawaiian heritage. He has contributed to two Grammy Award-winning recordings and has been honored with three Na Hōkū Hanohano Awards in Hawaii. 
His latest solo CD Maui on My Mind was recognized as the Slack Key Album of the Year in 2010. His latest release features his songwriting, performing, and producing on Amy Hanaiali`i and Slack Key Masters of Hawaii. The groundbreaking recording features a collaboration between Jeff, Amy Hanaiali`i, Cyril Pahinui, Dennis Kamakahi, Sonny Lim, and Chino Montero. Five of Jeff's songs including Hawaiian Skies were featured in the film "The Descendants" starring George Clooney. Riley Lee (shakuhachi, taiko) Riley Lee began playing the shakuhachi in 1971. He is the recipient of two of the oldest and most venerated lineages of traditional shakuhachi, which can be traced back to the Zen Buddhist komusô, or "priests of nothingness" of the Edo period in Japan. In 1980, he became the first non-Japanese to attain the rank of dai shihan or Grand Master. In 1973, Riley became the first non-Japanese to play taiko professioanlly, by touring internationally as a full-time performer of taiko (Japanese festival drums), yokobue (a high pitched bamboo transverse flute) and shakuhachi with Ondekoza (now called Kodo) a troupe of traditional Japanese musicians, performing with such groups as the Boston Symphony Orchestra, and at venues such as Kennedy Center (Washington DC), Roundhouse Theatre (London), Espace Pierre Cardin (Paris), and the Boston Symphony Hall. He has been instrumental in creating a professional presence of traditional Japanese music in Australia. He helped found the Australian Shakuhachi Society in 1996. In 1995, he co-founded with Ian Cleworth, Australia's dynamic Japanese festival drum group, TaikOz. It has since become one of Australia's premier performance groups, acclaimed both at home and in Japan. Riley has made over fifty commercially released recordings since 1980, which are sold worldwide on a number of labels.

Rhythm Summit: Jazz Trio
(With Noel Okimoto & Dean Taba)

featuring Kenny Endo on taiko, bamboo flute; Noel Okimoto on drumset, marimba, vibraphones; and Dean Taba on bass, kalimba. Includes "East Meets West," "Ubiquitous One," "Noon Cycles," "Symmetrical Soundscapes," and other original tunes.

Uncommon Time
(With Abhijit Banerjee & John Santos)

This collaboration calls for three percussionists from three different musical traditions to come together to each compose a new work, based in the composer's own aesthetic but "orchestrating" to incorporate all three musicians' styles and instrumentations. Each of the musicians has achieved mastery in his own genre– Kenny Endo in taiko, Abhijit Banerjee on tabla, and John Santos on Latin percussion. Each is an experienced composer, and they all share a passion for exploring musical collaborations across genres and cultural backgrounds. Their sophisticated and complex percussion rhythms take the drum to center stage. Unlike other percussion exchanges that most often resemble virtuosic jam sessions, the goal of this project is to create three new and integrated works, each referencing its roots but creating a synthesis that embraces them all.

Yuu Ishizuka
(Professional Taiko Solo Artist)

Born in 1979, Yuu Ishizuka is one of the top taiko drum soloists based in Tokyo today. From childhood, Yuu learned Nagauta (Japanese long song) music from his father, Saburo Mochizuki, and the late National Living Treasure, Bokusei Mochizuki IV, the head of the Mochizuki school of hogaku hayashi (Japanese classical drumming). Yuu learned the Sukeroku style of taiko drumming as a member of "Hatoyama Koin-no-Kai." At age 18, he became a professional performer and instructor of Oedo Sukeroku, one of the top professional taiko groups in Tokyo. Expanding upon his foundation in ensemble drumming, he formed "Shake CHA-z" featuring the bamboo flute, shamisen (3 stringed lute), and taiko. In 2004, the band released their first album "雷-ikazuchi-". He also formed "style Ⅱ.com" featuring taiko synchronized with a music sequencer. Yuu became an independent solo taiko artist in 2009 and performs with artists of various genre, He is highly sought after for his unique, original, and dynamic style of taiko drumming. As a composer, he has composed countless compositions to much critical acclaim.

Madi Sato (Vocals)

Madi Sato is a Japanese/American singer and songwriter, sound healer, poet, actress, and teacher. She has performed and recorded music ranging from blues and jazz to sacred world music. In early 2011, Kenny joined Madi along with David Wheeler (shakuhachi), Koji Nakamura (taiko), Yukiko Matsuyama (koto), Timothy McLaughlin (poetry), and John Rangel (pianist) at the Zen Center in Crestone, Colorado to record "Return to the River" aka "Songs for Sendai."

Keith Terry (Body Music)

Keith Terry is a percussionist/rhythm dancer whose work encompasses a number of allied performance disciplines — music, dance, theater, performance art — which he brings together to create an artistic vision that defies easy categorization. As a self-defined "Body Musician," Keith uses the oldest musical instrument in the world — the human body (his own) — as the basis for exploring, blending and bending traditional and contemporary rhythmic, percussive and movement possibilities. Trained as a percussionist, Keith was the drummer for the original Jazz Tap Ensemble when he found his drum patterns becoming hand claps and foot steps. Soon percussion became dance, his body his instrument, and his own style of body music emerged. Keith's influences range from Japanese Taiko and Balinese Gamelan to North American rhythm tap and Ethiopian armpit music. Kenny Endo and Keith Terry started working together in Japan during the 1980s. Since then they collaborate regularly in concert titled A Lifetime of Improvisation.

Peggy Gaither Adams
(Choreographer)

Peggy Gaither Adams, a professor at the University of Hawai'i for over 30 years, is an accomplished choreographer and dancer. She. Having worked with Southern Danceworks (Alabama), Four Bare Fete (mainland U.S.) and Dance Import (Honolulu), Peggy continues to perform, teach and choreograph internationally. She has worked with organizations such as the Hong Kong Academy of the Performing Arts, the New Zealand School of Dance in Wellington, and Lasalle SIA School of the Arts in Singapore. Her deep interest in rhythm tap inspired her to collaborate with Kenny Endo on a concert for Kennedy Theatre in 2013. Midnight Moon was restaged for TEN TEN at the Hawaii Theatre.

Çudamani
(Balinese Gamelan Orchestra)

Comprised of a 60 young virtuoso musicians and dancers, Çudamani is a professional company with a working philosophy much like a family temple or sanggar- that is, their work is dedicated to the communal and spiritual life of the villages. The company is famous for teaching, performing and preserving the rich and rare classical Balinese repertoire. At the same time, the composers contribute to both traditional and contemporary music, dance and shadow puppet projects.

Parijat Desai
(Dancer/Choreographer)

Dancer/choreographer Parijat has been presented by venues around the US and abroad including the J. Paul Getty Center in Los Angeles, Performance Space 122 in New York and the Bangalore Biennial in India. In 2001, she was commissioned to develop Quiet/Fire in collaboration with internationally renowned Taiko composer Kenny Endo, and the piece was presented at California Plaza, Los Angeles. Festivals of South Asian contemporary art that have presented her work include Artwallah (Los Angeles) and Desh Pardesh (Toronto).