Saburo Mochizuki (stage name) was born as Yutaka Ishizuka in 1946 in Tokyo. Saburo Mochizuki is his stage name in the hogaku hayashi (classical Japanese music) world. One of the top hogaku musicians in Japan today, he maintains a regular schedule performing in the Kabuki theatre. Before entering the classical Japanese music world, he was the winner of the 3rd annual Yushima Bon Drumming Competition in 1961 demonstrating great technique, persona, and flamboyant style. He is one of four founding members of Sukeroku Taiko, the first professional taiko group in Japan. Named after a Kabuki character who was the epitome of the Edo spirit, Sukeroku Taiko hoped to project that spirit, and style through their drumming. The Sukeroku style of drumming is one of the first styles of taiko introduced to America in the 1960s. This style of drumming influenced nearly all taiko groups in the United States via Seiichi Tanaka of the San Francisco Taiko Dojo. Well known world-class local taiko artist Kenny Endo studied with both Tanaka and Mochizuki.
Kaoru Watanabe is a Brooklyn based composer and musician, specializing on the Japanese taiko drum and shinobue flutes. He has spent decades artfully blending the sounds of Japanese instruments with those from around the world, collaborating with such artists as National Living Treasure Bando Tamasaburo, Jason Moran, So Percussion, Adam Rudolph, Kenny Endo, Stefon Harris, Kiyohiko Semba, Alicia Hall Moran, Tatsuya Nakatani, TaikOz, Yo Yo Ma's Silk Road Ensemble, Imani Uzuri, calligrapher Kakinuma Koji, visual artist Simone Leigh and has performed his compositions at such prestigious venues as Carnegie Hall, Lincoln Center, The Kennedy Center, The Metropolitan Museum of Art, Whitney Museum, Kabukiza, Minamiza, Blue Note NYC and has performed in all 47 prefectures in Japan.
Hiromitsu Agatsuma specializes in the Tsugaru-jamisen, a larger Japanese lute with thicker strings than those used in other styles. Beginning at the age of six, Agatsuma quickly gained fame after earning top prizes and honors in prestigious national Tsugaru-jamisen competitions during adolescence and his early career. An accomplished artist in the hogaku, or traditional Japanese music world, Agatsuma avidly experimented in fusing its genuinely Japanese sounds with diverse musical genres. He made his major label debut on Toshiba EMI with the album Agatsuma, named Traditional Japanese Music Album of the Year at the 16th Japan Gold Disc Awards. With over 100 annual concerts, sessions and media appearances, Agatsuma continues to pursue the traditions of and innovations in the Tsugaru-jamisen.
Hitoshi Hamada is considered the top jazz vibraphonist in Japan today. Born in Hokkaido, Hamada began playing mallet instruments at the age of six. He took a liking to jazz in high school and used the marimba to practice with. After graduating from Tokyo University of the Arts, he made his professional debut with the group "Force." Hamada is also an accomplished composer, arranger, pianist, percussionist, and leader of his own ensemble. He has appeared on numerous recordings and has published several albums as a bandleader.
Hamada's virtuoso technique and joyful, spirited performance enriches Endo's music adding a fun new dimension to the ensemble. Hamada can be heard on Endo's CD "Jugoya."
This collaboration calls for three percussionists from three different musical traditions to come together to each compose a new work, based in the composer's own aesthetic but "orchestrating" to incorporate all three musicians' styles and instrumentations. Each of the musicians has achieved mastery in his own genre– Kenny Endo in taiko, Abhijit Banerjee on tabla, and John Santos on Latin percussion. Each is an experienced composer, and they all share a passion for exploring musical collaborations across genres and cultural backgrounds. Their sophisticated and complex percussion rhythms take the drum to center stage. Unlike other percussion exchanges that most often resemble virtuosic jam sessions, the goal of this project is to create three new and integrated works, each referencing its roots but creating a synthesis that embraces them all.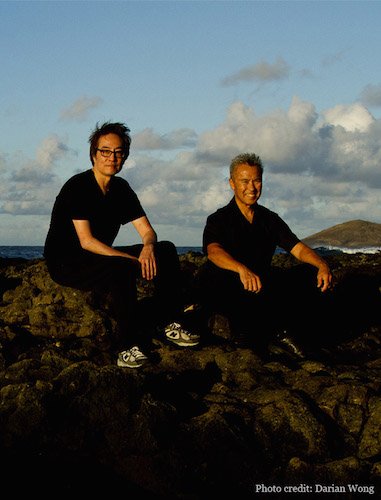 With over 30 years of experience in the recording industry, Producer/Arranger and Pianist, Derek Nakamoto is a proven leader and facilitator. From his unique abilities as a distinguished piano player on multi platinum recordings to his talents as a sought-after string arranger, his endeavors have brought him to work with some of the world's most talented musicians.
His musical talents are augmented by his ability to assemble creative teams of people that are the right fit for his production efforts. He brings to each of his projects tremendous resources and contacts within the recording industry as well as an uncanny understanding of the process of artist development. His musical diversity allows him to effortlessly connect with musical styles ranging from Jazz, R&B, to Rock/Pop and World Music.
The Asia Pacific Performance Exchange (APPEX) is an international residency program with a particular focus on American and Asian artists. APPEX programs have brought together more than 250 traditional and contemporary artists of varying disciplines from America and throughout Asia – from Bangladesh, Cambodia, China, India, Indonesia, Japan, Korea, Malaysia, Myanmar, Philippines and Vietnam — for six week long intensive residency sessions on the campus of the University of California, Los Angeles (UCLA) and in Indonesia.
Comprised of a 60 young virtuoso musicians and dancers, Çudamani is a professional company with a working philosophy much like a family temple or sanggar- that is, their work is dedicated to the communal and spiritual life of the villages. The company is famous for teaching, performing and preserving the rich and rare classical Balinese repertoire. At the same time, the composers contribute to both traditional and contemporary music, dance and shadow puppet projects.
Dancer/choreographer Parijat has been presented by venues around the US and abroad including the J. Paul Getty Center in Los Angeles, Performance Space 122 in New York and the Bangalore Biennial in India. In 2001, she was commissioned to develop Quiet/Fire in collaboration with internationally renowned Taiko composer Kenny Endo, and the piece was presented at California Plaza, Los Angeles. Festivals of South Asian contemporary art that have presented her work include Artwallah (Los Angeles) and Desh Pardesh (Toronto).
Peggy Gaither Adams, a professor at the University of Hawai'i for over 30 years, is an accomplished choreographer and dancer. She. Having worked with Southern Danceworks (Alabama), Four Bare Fete (mainland U.S.) and Dance Import (Honolulu), Peggy continues to perform, teach and choreograph internationally. She has worked with organizations such as the Hong Kong Academy of the Performing Arts, the New Zealand School of Dance in Wellington, and Lasalle SIA School of the Arts in Singapore. Her deep interest in rhythm tap inspired her to collaborate with Kenny Endo on a concert for Kennedy Theatre in 2013.